I was skimming through our
New Orleans Twitter List
and I was reminded of the term "Shotgun House", which refers to a type of home that is common in the South. According to Wikipedia a "Shotgun House" is "
a narrow rectangular domestic residence, usually no more than 12 feet (3.5 m) wide, with rooms arranged one behind the other and doors at each end of the

house

. It was the most popular style of

house

in the Southern United States from the end of the American Civil War (1861–65), through the 1920s.
A Shotgun House Video


Shotgun House Tweets
— NOLA Couture (@NOLACouture) June 25, 2016
— David (@DavidMora) September 21, 2016
— NOLA Couture (@NOLACouture) June 25, 2016
And for you architectural enthusiasts, here is one so you can brush up on your "Shotgun house" carpentry terminology..
— Jack (@jackhelean) August 24, 2016
Shotgun Homes on Houzz
This Houzz post has some good historical info about the reason for the building of so many shotgun homes in NOLA.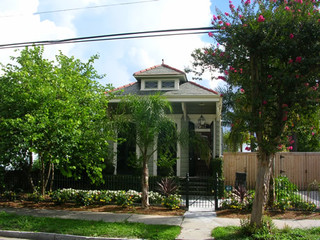 New Orleans has some of the best architecture in the country if we do say so ourselves. Regardless if your home is 150 year old shotgun house or brand new mansion, if you need any of our HVAC services in the greater NOLA area, please don't hesitate to give us a call 24hrs a day @
(504) 733-5888.